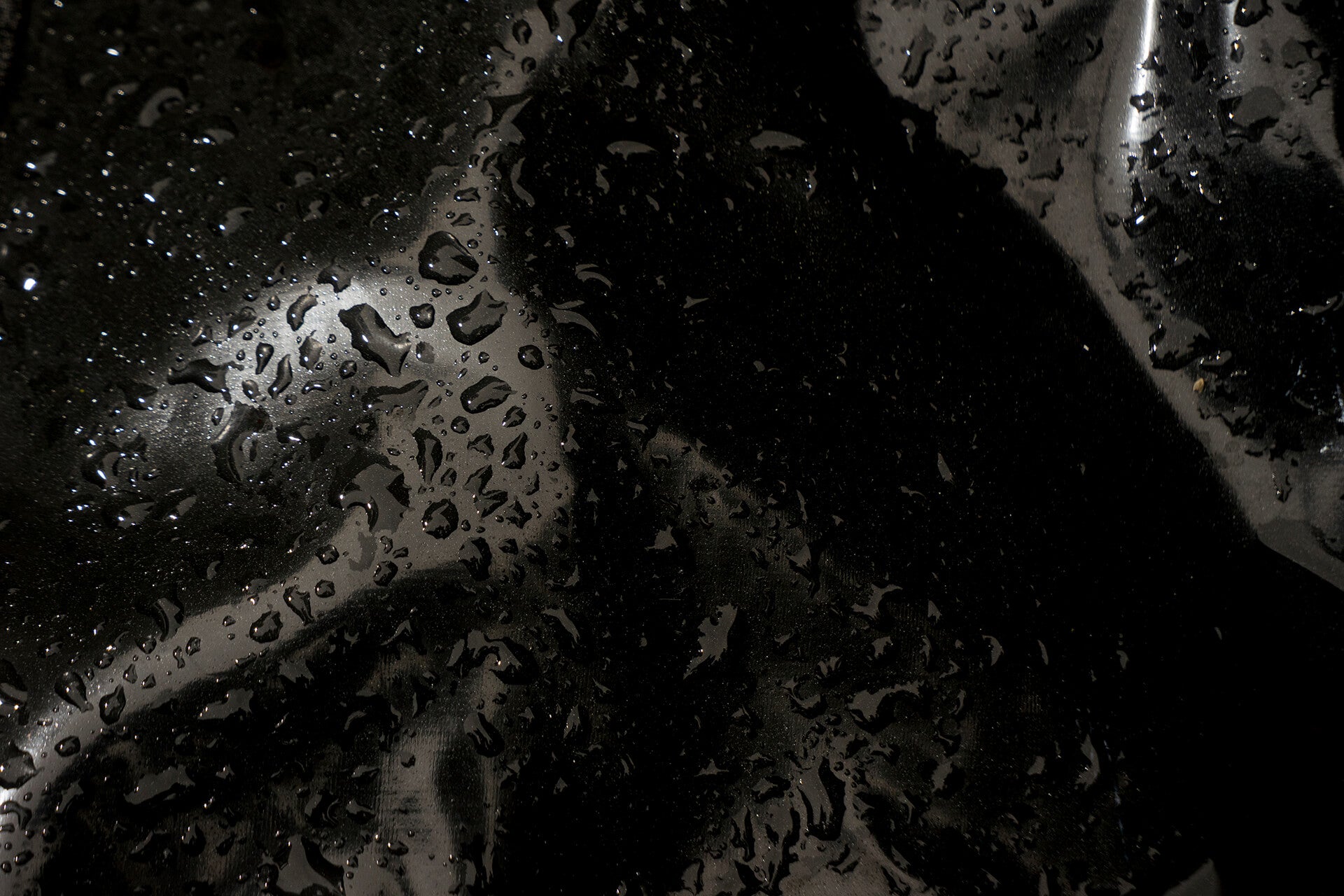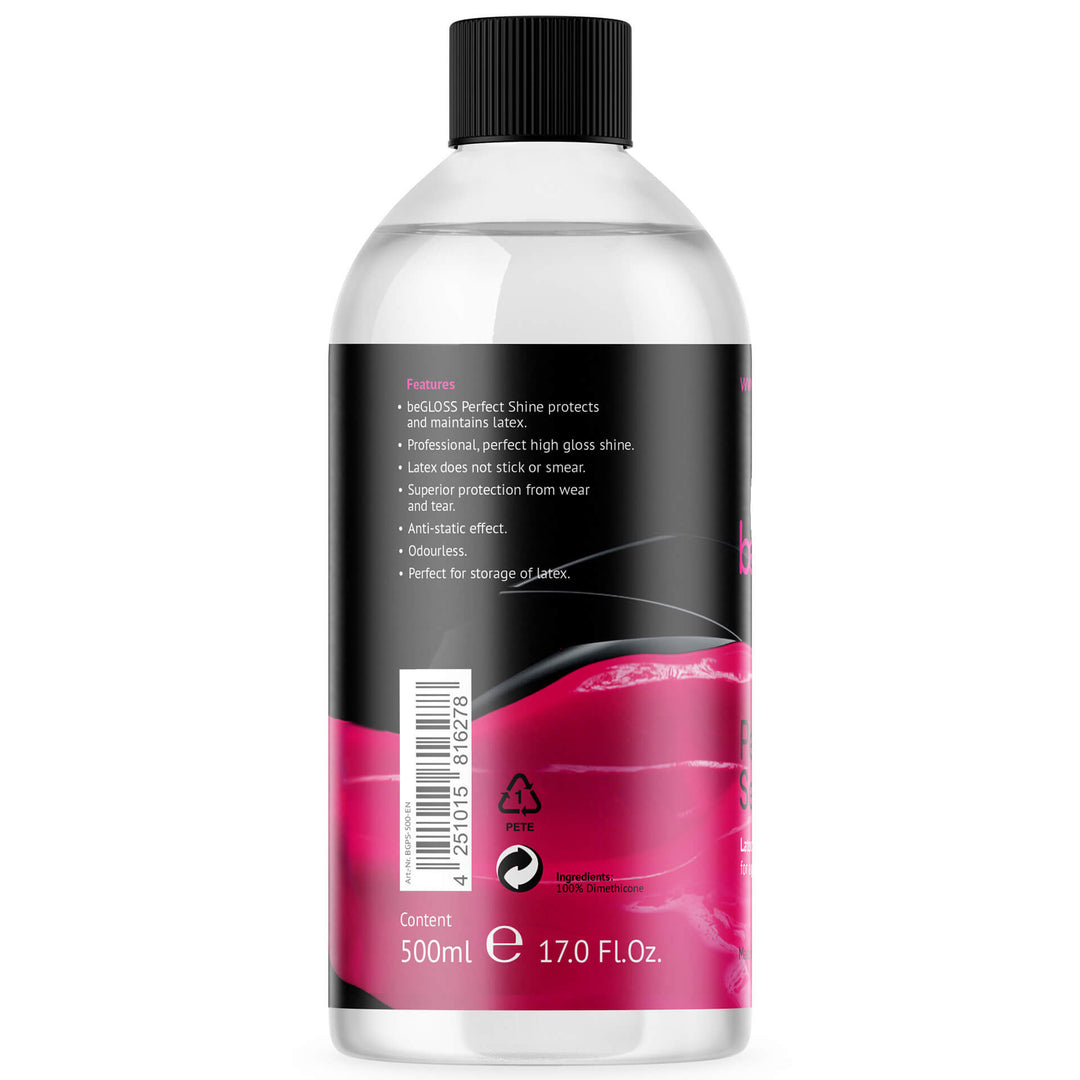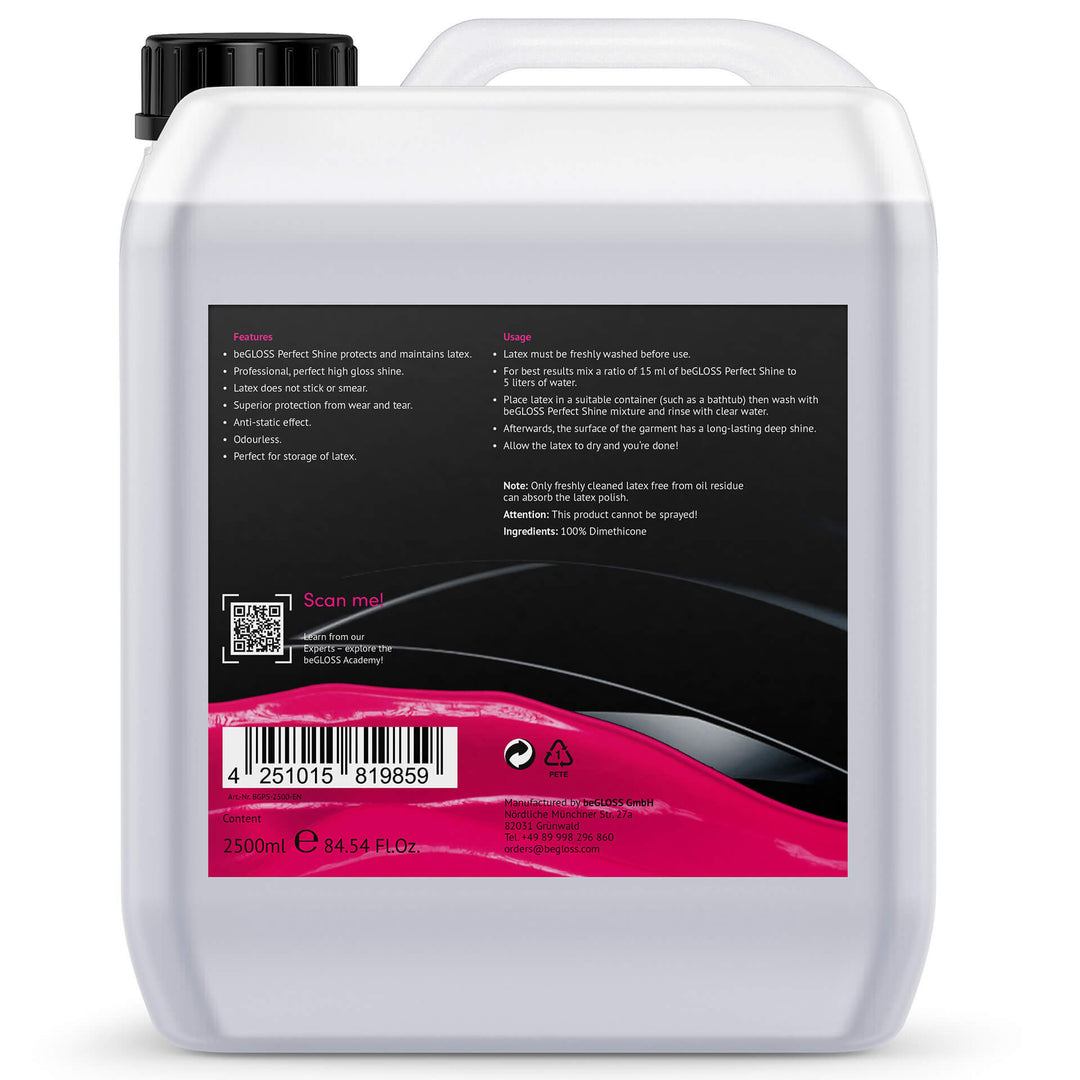 beGLOSS Perfect Shine - Perfect Shine & Sensitive Care
Optimal and professional high gloss and gentle intensive care

Polish and Conditioning in one
Give your latex the attention it deserves
Only provide your most precious items with the best products and they will spoil you forever with their PERFECT SHINE
The care polish refines your latex by sealing the sensitive material after washing and thus protecting it from wear and harmful influences
By sealing beGLOSS Perfect Shine gives the latex a special brilliance 
SEALING - POLISHING - PRESERVING 
You can read about how to take good care of your latex in our care instructions below
We explain how to wash your latex clothing, care for them, store the latex clothes correctly and things to consider

 Characteristics 
GLOSS
Perfect latex high gloss, finishing of latex clothing

CARE
Intensive conditioning 

SEALED
Effective protection against everyday wear and harmful influences
ODOUR NEUTRAL
Without preservatives and unnecessary additives
NON-STICK
Prevents latex from sticking
BRILLIANCE
Inexpensively gives a perfect glossy look
PURE FEELING
Keeps the latex soft and smooth
STORAGE
Suitable for storing latex as we do not use any preservatives 
• Suitable for all types of latex (chlorinated latex etc)
• Practical disc-top closure with economical outlet for easy measuring
• Bottle with tamper-evident film, hygienically sealed & protected against contamination
• Bottle sealed for transport

Ingredients: 100 % Dimethicone
beGLOSS - Made in Germany
GLOSS
Perfect latex high gloss, finishing of latex clothing

LATEX CARE
Cares for your latex intensively

SEALED
Effective protection against wear and harmful influences

ODOUR NEUTRAL
Without preservatives and unnecessary additives

NON-STICK
Prevents latex from sticking

BRILLIANCE
Inexpensively gives a perfect glossy look

PURE FEELING
Keeps the latex soft and smooth

STORAGE
Suitable for storing latex as we do not use any preservatives

Made in GERMANY
CARE FOR YOUR LATEX.
WE SHOW HOW.
What do you have to pay attention to in order to maintain the lifespan, shine and quality of your favorite item of clothing? With our tutorials you will become a professional.
BEGLOSS
About us
Exclusive fashion has to make an impression – immediately and everywhere. Following this mantra, beGLOSS has been offering the highest quality care for outfits made from latex, leather, vinyl and much more since 2015.